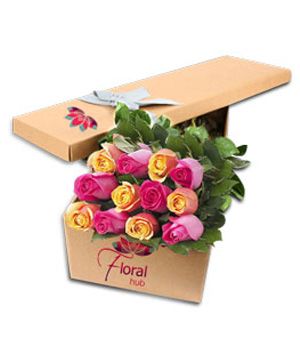 premium Long Stem Pink Roses
premium Long Stem Yellow Roses
This Arrangement comes in a Long Git Box with Ribbon
Delivered with an attitude
The beauty of roses symbolises and expresses promise, hope, love, sympathy and new beginnings. Different colours express different feelings and can be presented at different occasions. Floral hub does Roses delivery Melbourne anywhere at any occasion in Melbourne. Floral hub does Same day flower Delivery Melbourne for your loved ones on their special occasions to show that you care.
Floral Hub can deliver elegantly designed beautiful and colourful roses bouquets to impress your loved ones conveying your feelings and love. We will design floral arrangements suiting your style, taste and budget
Red Roses Melbourne are one of the best way to express your relations and feelings with people. A red rose will depict love and affection towards the person. It tells the other person that you love him the most. A yellow rose will show a relationship of friendship. It is one of the roses that is sold. And then white, black, pink roses; they all have their own importance. You can send red roses for valentines on the same day delivery service. The florist will deliver the flowers for you on the same day even if it is today.
Red Roses Delivery Melbourne make a classic bouquet and are sure to please any recipient. Whether it's deep red for love, pink for appreciation, or white to symbolise purity, roses are always a welcome gift whatever the occasion or event.
Roses make a classic bouquet and are sure to please any recipient. Whether it's deep red for love, pink for appreciation, or white to symbolise purity, roses are a welcome gift whatever the event.
The Floral Hub offer rose delivery throughout Melbourne. For fresh flowers for any occasion browse our beautiful selection of roses online. Melbourne customers can find every type of arrangements from single stems for a quick 'I Love You' to a full dozen to really make a statement. We also have mixed bouquets with the addition of classics like lisianthus, irises, and lilies. Our flowers are all of the highest quality, with every petal perfect and each stem stunning.
Our delivery service includes homes, businesses, and hospitals, to ensure your blooms get to their intended recipient. With our easy online ordering system, you can have your roses delivered at the time and day you specify, so your gift has the biggest impact. Ordering roses online in Australia could not be any easier – simply select the bouquet you want, nominate your preferred delivery time and day, and head through to our secure check out.
There is not a single person in this world who does not like flowers, as they speak the universal language of emotions. Furthermore, when you think about sending someone a beautiful flower bouquet, roses immediately come to mind. With a choice of colours, there is a rose for every occasion that can be delivered using our rose delivery in Australia. A yellow rose expresses friendship, gladness or joy, pink rose is used to show admiration and thankfulness, a red rose shows nothing but love whereas white roses show purity and innocence and are most commonly used in weddings.
Our rose delivery service provides the freshest flowers at the most affordable rates. Now you do not have to worry about spending too much money just to express your feelings. Select from the wide variety of beautiful rose flower arrangements from our website. Pick an arrangement that suits your budget and situation and follow a few simple steps to place an order with our floral delivery in Australia. We make sure that our customers receive their flowers in the best condition at their requested days. We know you cherish the beautiful smiles on the faces of your dear ones and we keep our promise to deliver nothing but happiness.
Roses are a beautiful way to express your feelings. Typically used for occasions like Valentine's Day and Anniversaries, what many people don't realize is that roses can serve many purposes. To that end, roses also come in lots of colors and sizes, all known for their specific specialties. For example, Buy Red Roses are meant to signify deep and passionate love while yellow roses are meant to signify important friendships. White roses are used for important occasions like weddings; all these events are pretty big in a person's life.
Another vital concept is that roses require a lot of care and attention and the right kind of roses only breed when you give them particular attention. This is why Floral Hub grows its own roses with special care and then delivers them all over Melbourne at the most reasonable rates. Red colored roses have appeared in literature and art countless times as a profession of true love. They are also subject to a lot of symbolic meaning which can be recounted throughout history. We understand this and aim to grow the finest of roses for you to appreciate. Similarly, we are sure that there is nothing that brightens up a room like orange roses, signifying a warmth and connection that most people crave. Orange roses are often considered the safer option when it comes to roses, which is why you can gift them to anyone by simply placing an order with Floral Hub.
You can be contemplating to send your loved one something simple like a single rose and you can easily place an order online here. These come in their own slim boxes and otherwise, we offer a range of yellow, red, pink and white colored roses from 6 boxed roses to 35 boxed ones. Our stunning collections of pink roses, perfectly fit most situations be it a congratulations or a thank you. Grown originally in the wild, these roses are the first kind of roses. The most elegant of them all, the white rose, also has taken its place in history. Untainted and pure, it signifies all such traits and is considered almost noble. At Floral Hub, understanding these concepts lead to the proper arrangement of these flowers and satisfying your needs.
Melbourne as a city is really advanced and big, the one most pressing concern is that lack of people interacting with nature and wanting to, in fact. Floral Hub is trying to bridge this gap by providing you with premium roses. Stunning bouquets of white, pink red and orange roses are perfect for all occasions. Our flower experts have put together mixed roses and single colored roses in baskets (wooden) that make for gorgeous presents. Another one of Floral Hub's specialties is roses in vase / pots; stunning arrangements have been made for you by flower experts who understand aesthetics very well. If you aren't looking for dozens of roses, you can easily just order a rose in an elegant vase. Finally, Floral Hub takes special pride in its Roses which include some light yellow and purple roses arranged with wild flowers. But the star of the show is the bouquet roses that has as many as 75 roses (red) in this collection; make your loved one feel extra special by ordering this piece of beauty for him/her.