Flower Delivery in Melbourne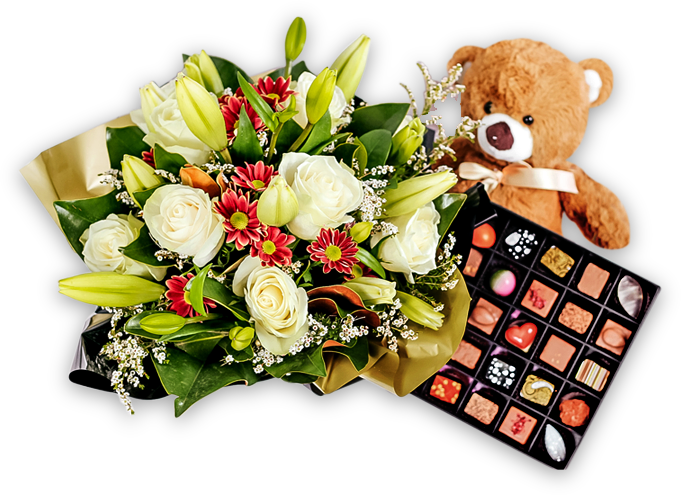 At Floral Hub, you'll be spoilt for choice with our extensive selection of beautiful floral bouquets. No matter what the occasion, a floral gift is certain to delight the recipient. Our clear and easy to use online service provides the convenience of sending beautiful flowers at a reasonable price. With a wide range of bouquets and flowers delivered in Melbourne, we are among the best flower delivery services in Australia.
When it comes to a quick delivery, our reputation precedes us. With the Floral Hub unmatched service, express flower delivery in Melbourne is just a click away. Our expert florists are responsible for spreading smiles to the doorsteps of millions with flower delivery in Melbourne.
Floral Hub is home to unique, alluring bouquet arrangements designed by our dedicated florists. Our passionate team delivers bouquets comprised of only the freshest of blooms. We create an exquisite floral language with hand-picked flowers and fancy embellishments. At Floral Hub we pride ourselves on our premium quality, convenience and affordability. We customise and deliver arrangements and floral gifts as per the request of our valuable customers.
Our bouquets are simply stunning, with classic blooms like day lilies, gerberas, irises, lisianthus, and, everyone's absolute favourite – roses. Our expert florists craft these blooms into gorgeous bouquets, which show off each flower to its best, accompanied by attractive foliage.
Flower Delivery to South Wharf Melbourne
We're passionate about flowers and the good they can do. Our flowers delivered in Melbourne are perfect for all occasions; be it a cheering up moment, a Happy Birthday or an anniversary, nothing sends a more emotional and special message for the recipient than a flower bouquet. Surprise someone special with an exquisite floral display from Floral Hub.
You can view our order options online. We've provided useful tabs – such as Birthday, Anniversary, or Congratulations – to make it quick and easy to find the arrangement or gift you're looking for. This is particularly useful if you've – ahem – forgotten an important occasion and need to find the right flowers in a hurry.
With our easy booking system, you can set a flower delivery date and time to ensure your order gets to its intended receipt at just the right moment. We know there's nothing like receiving a bunch of blooms in front of your work colleagues or having a well-timed bouquet arrive when you're laid up in hospital and feeling blue. That's why we work hard to match our flower deliveries in Melbourne with your preferred delivery time as closely as possible – so that our beautiful flowers have the biggest impact.
Think of all the things you can say with flowers – 'I love you', 'I'm sorry for your loss', 'Get Better Soon', or just a simple 'Congratulations'. With our florist delivery throughout Melbourne, you can say whatever you that someone special. Surprise your loved one today – send flowers direct to their doorstep with Floral Hub.
Flower Delivery Melbourne CBD
There is something special about receiving a flower bouquet on special occasions or even on a regular day. And when the flower delivery is a surprise, it's even more exciting. With flower delivery services growing in popularity, most people consider ordering flower arrangements online.
Flowers can be sent to people at their home addresses but they can also be sent to the workplace. Reward a special person, a family member, friend or a colleague to celebrate their work-related accomplishments with flowers delivered to work in the Melbourne CBD. It makes a real difference to someone's day.
Flower Delivery South Yarra Melbourne
Before you select a flower arrangement to be delivered at a workplace, make sure that you are choosing an appropriate bouquet that would not cause any kind of problems for the one receiving it.
If sending to the Melbourne CBD, it should not be overly large in size or it may not fit in a confined space or a cubicle. At Melbourne Floral Hub we create customised flower bouquets which are ideal for display in the workplace.
Flower Delivery to Southbank Melbourne
Flowers are the most beautiful creation of God. They speak a language so special that expresses a thousand sentiments without even saying a single word. Flowers do not cost a lot and yet they show what is exactly in your heart. There was a time when sending gifts used to take weeks or even months to reach the receivers which ruled out the possibility of receiving fresh flower arrangements. But with the advent of technology, you can sit back and send something special Australia-wide with just a click of the button.
The very idea of sending a bouquet is to bring a smile to the receiver's face when they hold the freshest and most colorful flowers in their hands. If you want beautiful flowers delivered in the Melbourne CBD simply select the flower arrangement that you like from our huge variety and send flowers to a loved one in Melbourne right away. We have an unmatched reputation when it comes to our flower delivery service and we assure nothing but the best quality of flowers at an affordable price. Let someone know you're thinking of them with floral arrangements from us.
Flower delivery to South Melbourne
The most interesting story encapsulates what was once a hill, now known as South Melbourne. This Hill was the hill of utmost importance, all Aboriginal ceremonial activities taking place on this hill. The Hill was a place where memories were made. Now, almost 200 hundred years later, South Melbourne is still a place where memories can be made; allow us, at MLF to make every occasion special by delivering to you beautiful flowers that tell exotic and romantic stories. Order them from our online store now.
Earlier on, South Melbourne mainly consisted of an area known as The Hill, which was a communal place of worship and rituals for the Aborigines. During such times, there was a community spirit that united communal residents and provided for social and emotional support. The lives that we lead today are so fast paced and hectic that we cannot imagine not sitting down to talk about things as a community. For this reason, florist South Melbourne work together in a team to deliver to you some of Melbourne's most spectacular flowers that have been grown with immense care. Centering flowers on a table can create a calming, supportive ambience that can encourage you to unwind after a long day away from home. Flower delivery South Melbourne aims to provide you with comfort at your ease.
Flowers are a pure and wonderful way to express your emotions. Be it someone's birthday, Valentine's Day, Anniversary or anything for that matter; flowers can express feelings in an elegant and timeless way. At Floral Hub, we firmly believe in this philosophy and that is why our only aim is to provide you with beautiful flowers that are well suited for any occasion. Flower delivery South Melbourne is a service given by us for your convenience. All you have to do is visit our online webpage and select from our collections of roses, lilies, peonies or whatever you fancy and have them delivered to your doorstep. We also offer same day delivery South Melbourne in case of an emergency.
Around the 1980s, South Melbourne faced a massive gentrification process. This turned the area in to a mainly commercial sector with middle class housing, leaving no space for its earlier spiritual significance. If you are one of those people who need to take time off from the busy city life, then Floral Hub has the perfect solution for you. We grow our own fresh flowers and offer flower delivery South Melbourne. We believe in the healing powers of flowers, their ability to have a positive effect of our moods and their way of setting a certain ambience. Flowers are nature's relaxants and anti-anxiety and we believe in promising you the best kind of flowers so that you can fully connect to the environment around you and ground yourself. To see for yourself, order them today on our page.
Roses are a classic way to express feelings of love and passion. They have represented for centuries in literature and history depicting love, passion, anger, jealousy, power struggles and scandals. This specie has a very rich history and connotation that we cannot ignore.
Even in today's world, roses hold the same significance although mainly romantic or passionate in nature. At Floral Hub, we cultivate premium roses and promise you the best ones as we offer roses delivery South Melbourne. Florist South Melbourne grows these rich roses with care and promise to deliver to you the best, most fragrant roses in all of Melbourne. Order them today from our webpage and see for yourself.
Flower Delivery North Melbourne
North Melbourne is majorly a working class area with some middle class pockets, indicating that budget is a concern for most of its residents. When it comes to décor, we have the perfect cost effective solution for you; order the most affordable and the most beautiful flowers in all of Melbourne with us at Floral Hub. Our services are online and we promise 100% satisfaction.
North Melbourne may not be Victoria's most picturesque areas but it has the potential to be so. Although belonging mainly to the working or the middle class, the area is known for its earlier industrialization and cultural diversity. If you are a tired resident who wants to see some natural beauty, florists North Melbourne is the perfect destination for you we function online and our website offers a large array of various seasonal and exotic flowers that are also customized for special occasions. Flower delivery North Melbourne is our primary concern; we are prompt and efficient and our produce is always fresh. To try out a new flavor in this suburb, order timeless flowers from us today.
In a place like North Melbourne, where the median population is just under 29 years of age, you can imagine how alive and exciting it must be. With younger people residing in this suburb, every romantic holiday, like Valentine's Day is celebrated with even more enthusiasm than normally. Roses are a favorite on Valentine's Day and florists North Melbourne have the most beautiful roses to offer you. In a busy schedule it can be difficult to take time out to even buy flowers which is why we offer roses delivery North Melbourne on Valentine's Day and all other days. Order with us now to experience our special flowers.
The most widely celebrated festival in North Melbourne is the annual Spring Fling. It is a festival to celebrate the arrival of spring, which brings with it colors, life and most of all beautiful flowers. Floral Hub pays homage to this annual Spring Fling by cultivating its most precious and beautiful flowers and offering flower delivery North Melbourne all throughout the year, especially customized for every special occasion. You can easily just visit our webpage to browse through our various collections of flowers and order them for yourself or your loved ones. In case of emergencies, you can rest assured that we provide same day delivery North Melbourne for your convenience.
The demographics of North Melbourne dictate that many culturally diverse groups reside here. With so many cultures that interact with each other in the same area, there are many occasions or festivals that need to be celebrated. You can celebrate with them with florists North Melbourne that have flowers for every occasion. They are also customized for special occasions and same day delivery North Melbourne is also offered. We understand how flowers can be used to influence many important aspects in a person's life and this is why our flower experts are present that help you choose what flowers you need for a special occasion. Order with us online today to really celebrate the diverse culture of North Melbourne.
Send Flowers East Melbourne
East Melbourne is just two kilometers away from Melbourne's central business district. It is home to many prominent institutions, parks, and landmarks including the Parliament of Victoria. Whether it is a special day in the life of your loved one or you want to show your love or appreciation to a family member, MLF's online florist delivery system ensures that your flowers are delivered in time.
Roses Delivery Melbourne