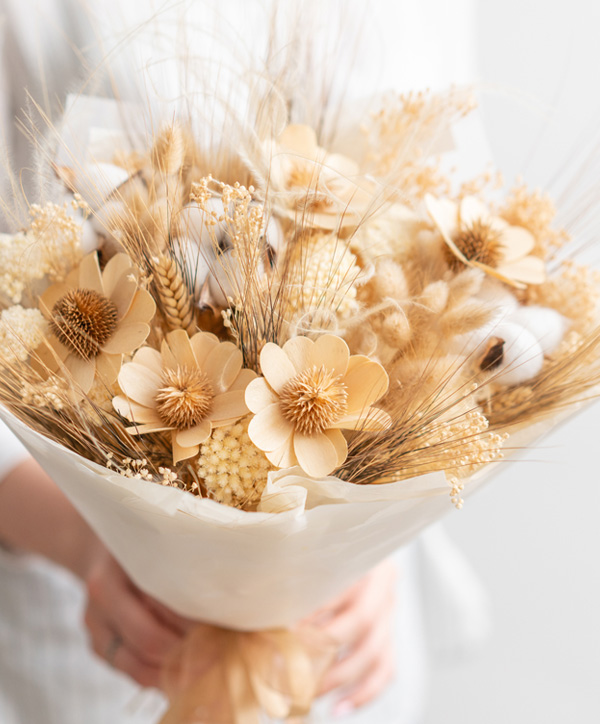 Florist custom piece arrangement for your special occasion.
Simply choose your budget of Standard size or Large.
Our florists will design a unique preserved flower arrangement for your.
Preserved flowers are an excellent way to bring the beauty of nature into your home. A stunning floral arrangement is an interior design must-have for anyone that wants to add colour to their home or workplace in a stylish manner. If you want beautiful blooms that last, we can help. At Floral Hub, we pride ourselves on creating beautiful, long-lasting preserved dried flower arrangements.
Our preserved dried flowers collection includes options to suit all tastes and complement all styles of décor. From the muted, elegant tones of our Janis arrangement to the rich, warm colours of the Nicole arrangement, you are sure to find a choice you will love. You can also choose to make your flowers extra special by opting for an extra-large bouquet.
Preserved flowers not only look fantastic in your home, but they also make the ideal gift. Whether you want a gift for a special occasion, or want to say thank you, preserved dried flowers are the perfect way to show your appreciation.
The team here at Floral Hub will expertly prepare your preserved flowers and get them to you fast. We offer SAME DAY DELIVERY in Melbourne, which makes us a convenient choice if you are looking for a last-minute gift, or simply need your flowers fast.
If you are looking for a perfect gift or want to brighten up your home with a beautiful floral arrangement, why not order your preserved dried flower arrangement today?