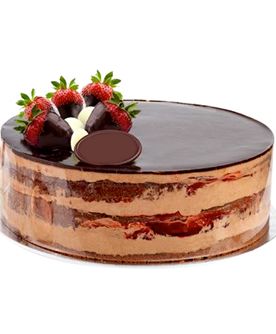 30075 kJ
Three layers of chocolate sponge, delightful chocolate cream & natural strawberry topping, covered with a chocolate glaze, choc pieces and fresh strawberries.The perfect cake for all occasions.
Floral Hub same day delivery for fresh cakes anywhere in Melbourne.
Our cakes are seriously addictive!
We're so delighted to begin our savoury cake range! Welcome to the Cakes Hub – where we create the most delicious cakes in Melbourne for all occasions from birthday, wedding, mother's day, fathers' day, Easter to Christmas. Whether you are searching for a wedding cake or pure Belgian chocolate or a bouquet for the significant others in your life, Cakes Hub has got you covered in Melbourne and all its nearby suburbs. We strive to create something for everyone at our cake shop in Melbourne. Our bestselling signature cake range with contemporary twists includes mouth-watering Black Forest Cake, indulging Double Chocolate Strawberry, delicious Belgian Double Choc, and delightful Rainbow cakes.
Handcrafted every day by our super capable team of chefs, our all marvellous cakes are meticulously crafted with all the edible decorations that you will surely love – think of edible chocolate flowers and stars, cherries, fresh strawberries, and all the chocolaty goodness in a cake.
And you can order your custom cake with your preference for any occasion or event or festival. Just choose the letter or number and select the cake embellishments that befit the event… and leave the rest to our skilled chefs!
To shop our scrumptious range of cakes please call or chat with us at this number 1300 1555 15
To rejoice an accomplishment or to encourage near and dears, cakes are regarded as luscious and indulgent gifts. If you have to send cakes the same day to your family members, friends, or colleagues, then check out the online inventory of our delving cakes now.
We deliver sweet, freshly prepared cakes in Melbourne and it's outskirts for all of life's festivities and celebrations! Our collection of bestselling, trademark cakes is gluten-free and presentable to gratify all your cake gifting needs. Our all cakes are baked fresh, rich in flavours, and deliciously soft in textures. Our industrial freezer, as compared to home freezers, is intended to maintain the exquisite cake structure and moisture level of the signature gourmet cakes, for conserving their aroma and flavour. Plus, you can book for the same day or next day delivery of these luscious cakes anywhere in Melbourne and all its neighbouring suburbs! So what are you waiting for? Make your celebrations unforgettable with our freshly baked luscious cakes.
Call or chat with us now to get your sweetest moments delivered now!
Phone: 1300 1555 15